About Us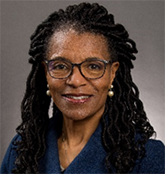 Victoria Celestin, PMP, Program Ambassador
Victoria Celestin began her career in the United States Air Force where she served as a Captain in Cost Accounting.
Victoria has over 20 years of experience in Education Curriculum Planning, Diversity Management, Initiative Development, Program Operations, and Marketing Communications. She has vast experience in program and project integration, coordination and direct team and functional stakeholder engagement.
She is a 2018 graduate of the Get it Done Consulting's PMP Certification Exam Prep Course. Her professional certifications include Lean Six Sigma Green Belt (LSSGB) from Get it Done Consulting, LLC, and Project Management Professional (PMP) from the Project Management Institute.
Victoria holds a Bachelor of Arts in Mathematics with a French Minor from The Johns Hopkins University. She also holds a Master's of Arts Degree in Liberal Studies from the University of Delaware.
Victoria currently works for Raytheon Technologies as a Program Integrator. She has held various program-level positions at Raytheon to include Sr. Technical Support Engineer and Sr. Multi-disciplined Engineer.
In her role as Program Ambassador, Victoria shares her compelling success story of collaboration with the VA's Vocation Rehab counselors and employment coordinators.