Continuous Improvement Training
Lean Six Sigma Green Belt Training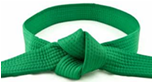 What is Lean Six Sigma? Lean and Six Sigma are typically used together to improve business processes. Lean is a customer-centric methodology and set of tools used to continuously improve business processes by eliminating wasteful steps and practices. Six Sigma is a proven set of data driven tools and tactics used for process improvement, reduction of defects, and improved quality.
Where does Lean knowledge take me? Lean is commonly known as Continuous Improvement. It sets you up for efficient personal and professional growth and can set the stage for Agile project management concepts and ultimately becoming a Project Management Professional (PMP).
Why is it important to become Lean Six Sigma certified? This course is an opportunity for a vet to launch or progress in the sought-after process improvement field of Lean Six Sigma. On Linked-In, there are more than 3,000 jobs every day across virtually all industries that require a Lean Six Sigma Green Belt. The average salary for a Lean Six Sigma Green Belt is $82,000 (source: Indeed.com).
Course Dates and Times:
The course is conducted over four to five weeks. It is remote training delivered via Zoom. There are 40 hours of instruction with courses beginning the first and third months of each quarter.
Course Objectives:
Provide an appreciation of the Continuous Improvement philosophy and understand how to put it into action.
Provide a "lean thinking" capability that leads to successful Agile Life Cycle project management understanding.
Understand the Kaizen concept and its value and be able to plan for a Kaizen event.
Provide an understanding of Lean Six Sigma problem-solving.
Understand and apply the following tools in business situations: Voice of the Customer (VOC), SIPOC, Cost of Quality (COQ), Baseline Sigma, Value Stream Mapping, Fishbone Diagram, Regression Analysis, Failure Mode Effects Analysis (FMEA), Statistical Process Control (SPC), and Pareto Diagram.
Present a LSS Green Belt project employing three data-driven tools (Pareto, Regression Analysis, and SPC).
Administer a quiz to certify the student as a GID Lean Six Sigma Green Belt.